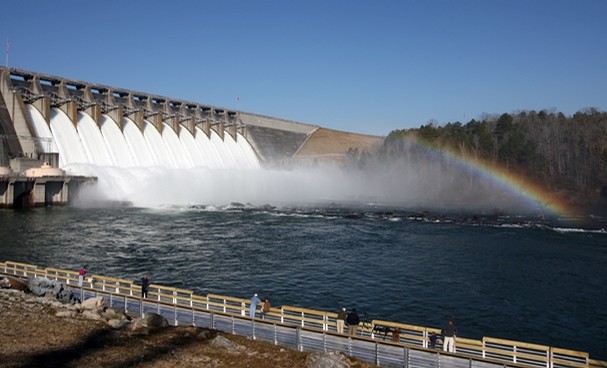 Imagine waking up to look out of your bedroom window which overlooks a beautiful, blue lake, framed by the rolling hills of the Blue Ridge Mountains. As you step out to grab the morning paper, you notice the air is mild and clean, and even in the winter, you rarely have to adjust your thermostat. This is what you can experience when you choose to purchase Hartwell, GA real estate.
Located in the northeast corner of Georgia, Hartwell is a couple of hours from major cities like Atlanta and Greenville, and just 3-4 hours away from the Atlantic Ocean. Despite its proximity to major cities and attractions, Hartwell, GA real estate maintains its charm as part of the quintessential small town. Hartwell is undisputedly beautiful, and offers some of the nation's best living conditions among gorgeous scenery. It's no wonder that Hartwell is home to an increasing number of residents, all of whom have come to enjoy the simplicity of natural living in this delightful small town.
Life in Hartwell, GA is simple, and that's just the way the residents like it. Hartwell is popular among buyers for Lake Hartwell Real Estate. With a population of only 14,931 and a median household income of about $33,000 annually, Hartwell is a city with plentiful opportunities for work and a very low cost of living. Residents enjoy the typical temperate weather of the south year-round, which offers an abundance of opportunities to enjoy the many local activities on Lake Hartwell. Winter temperatures range from a moderate 32 degrees to a very comfortable 60 degrees, and summer temperatures heat up from 67 degrees to 90 degrees. With excellent schools and remarkably low crime rates, Hartwell appeals to young and old, single and married, retirees and families with school-age children.
Homes in Hartwell, GA are as varied as its residents. In the city of Hartwell, you can find large contemporary style homes along Lake Hartwell, offering the ultimate in lakefront living. If the idea of wilderness living is more appealing to you, choose from one of the many home designs influenced by rustic log cabins. Home prices are diverse, but overall, Hartwell, GA homes are priced to suit any buyer's budget.
For more information on how you can make Hartwell, GA your home, contact professional real estate agents Parker Quigley Properties at 866.244.8439 today or email: Parker@parkerquigley.com